Did you know that childhood cancer is the leading cause of death by disease in children under 15? Scary, huh? People don't want to talk about it, they only want to think "that could never happen to me, my child is so healthy." Until it happens to you, like it happened to my family.
September is Pediatric Cancer Awareness Month, so each day this month I will be sharing with you a fact about Pediatric Cancer.
For more information about my amazing cousin, Vanessa, and other incredibly brave children affected by cancer check out the
PCFLV 30 Days, 30 Stories
.
Now on to quilts and my absence. I don't want to make this public to alarm anyone or to get sympathy, I just want to put this out there so you all know. I am sick, with what we're not quite sure. I was in the hospital this week with symptoms of a stroke, and this is not the first time that this has happened. I am going to be a-ok, however, in order to get ANY answers about my condition I need health insurance first. How ridiculous is that? I need an MRI, MRA and a consult with a neurologist, but until I get health insurance they won't even schedule the appointments with me. The hospital said I needed to get all this done in a week. Does this make you as angry as it makes me? This
could
be a very serious condition, and I won't know until I get a job that offers me health insurance, which could be months from now! I just don't understand how messed up our health system is.
On to some more positive things.
Happy spirals and happy ferns, two wine totes that I FINALLY finished for the quilt shop (wine not included)!
I've also decided to take Express Your Love off the wall and put it back on my machine. I am SO excited about this. I can't wait to finish it, though that may not be for a few more months.
I also have two more WIPs in the works, as I've assembled two quilt tops for the shop. Once I get a little extra money I will purchase the backing and binding for these quilts!
It's something about the fall weather that makes me SUPER motivated to quilt!
I will post more pictures of the quilt tops and more wine totes that I'm assembling this week!
As far as my training goes I did take about a week off, but will be starting back up again today!
How are you all spending your labor day?
Quilt on,
Hoppi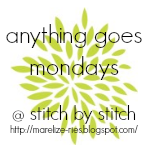 Today I'm linking up with stitch by stitch.
I'm also linking up with Can I get a Whoop Whoop over at Confessions of a Fabric Addict. Sarah is celebrating a milestone of 900 followers with an awesome give away, go check it out!